The well-known meteorologist Jim Cantore has transcended the television to become an unexpected internet hit. Jim Cantore is well-known for his lively coverage of extreme weather events, and his fervent on-screen persona that has spawned a deluge of amusing and heartwarming, and funny memes. The internet's love of Jim Cantore memes demonstrates the blend of humor and respect for his dedication through edited films that place him in pop culture scenarios and funny captions that overlay his enthusiastic reactions. Beyond the green screen, Jim Cantore's unintentional ascent to meme-dom serves as a prime example of how the internet can transform even the most solemn professions into hubs of online amusement and social connection.
Jim Cantore, who was formerly the dependable face of weather forecasting, has unexpectedly evolved into a meme sensation. Although his constant commitment to reporting storms has gained him recognition, internet users have embraced his contagious excitement. Whether facing ferocious gusts or rejoicing in thundersnow, Jim Cantore's historic events have been transformed into several Jim Cantore Memes that are popular on social media.
Chameleon Memes present before you a collection of Jim Cantore Memes to laugh, entertain and gain knowledge about this incredible internet sensation.
1.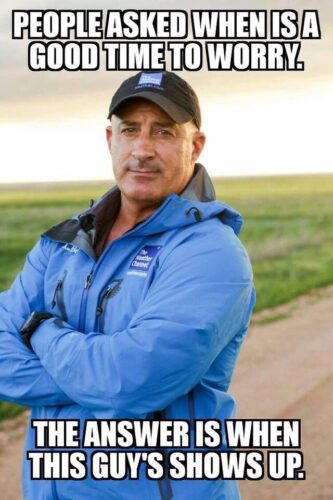 2.
3.
4.
5.
6.
7.
8.
9.
10.
11.
12.
13.
14.
15.